Shape quite similar to the Korean men's Han Licheng Xian Guo Yong-ho, Kim in South Korea illegally withdrawing more than NT $ 500 million absconded from the country, to imitate the movie "Catch Me If You Can" plot to fake passports, fake identity, more than three years out of the Southeast Asian countries Si Shiyu times , undetected. Earlier this year, although a Breakthrough to Taiwan, but leave in March, still could not escape the NIA official inspection discernment, his face caught under consternation.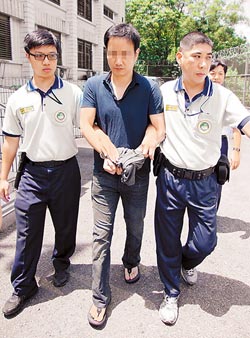 Guo Yong-ho attract NT $ 500 million absconded
NIA find out he was wanted by the major economic guilty Korea, in addition to pursue criminal forgery, sentenced in May after execution, through the Ministry of Justice inform the ROK, the two sides reached a mutual legal assistance agreement, Seoul District Prosecutors Office Prosecutor yesterday dispatched three Investigators came to Taiwan, will be escorted back to Han Guo Yong-ho justice.
Speaks fluent English Kwak Ho Young (transliteration Guo Yong-ho), 42 years old, 180 cm tall handsome appearance, weekdays do sportsman dressed, wearing designer suits fashionable clothes, wearing an internationally renowned high-end leather goods, and even the hand pull trunk is worth several hundred thousand dollars of LV luggage, but he was actually a fake investment to really suck money and earn dirty money of economic criminals.
False passports were uncovered transferred to Hong Kong
According to information Seoul District Prosecutors Office to provide, Guo Gao Yong in Korea and five friends together dummy bears companies to invest in Macau casino name to attract investment, at least attract 17.35 million US dollars, and then a vicious collapse in 2009 the company, the same year in September Guo Ho Wing on rushed fled abroad, was released in accordance with the crime of fraud, embezzlement and breach of trust method wanted.
Earlier this year, Guo Yong-ho to the ninety-day tourist visa, holders Koreans "Moon Dusang" (transliterated text Governor yet) passport to Taiwan, March 24, from Taoyuan airport ready to leave transferred to Hong Kong, has been repeatedly seized forgery Eucalyptus female inspection officer 林玟 Jun perceptible suspicious, use of high-tech identification system for further identification, found the passport is false, Guo Yong-ho scared shocked the whole person, admitted using a false passport holders; Immigration Department discovered that his 7 September 2009 Japanese outbound Korean first chapter is a fake, the other chapters cover more than 40 pieces are true, apparently to fool many countries Immigration Agency inspection officer Guo was transferred to investigate and deal with, the Taoyuan District Court sentenced to five months imprisonment.
3-year career in the rest of Southeast Asia 40 times
Immigration Department said Guo Yong-ho from South Korea fled abroad, first in Macau to live extravagant lives, and then transferred to Malaysia seeking refuge with friends, discard expired passport to buy "Wen Governor still" fake passports to hide the true identity, more than three years come to this fake passports out of the Southeast Asian countries Si Shiyu times, toured Malaysia, Macau, Hong Kong, Thailand, Singapore and Indonesia and other countries, all into being, just like the movie "Catch Me If You Can" episode.
However, Guo Yong-ho, come and go more than three years in Southeast Asia, eventually planted in my hands NIA official inspection, three months after receiving the payment and then against the criminal penalty, yesterday 13:25 exit his return from ROK Inquisitor escorted home for trial, ending nearly four years of exile life.