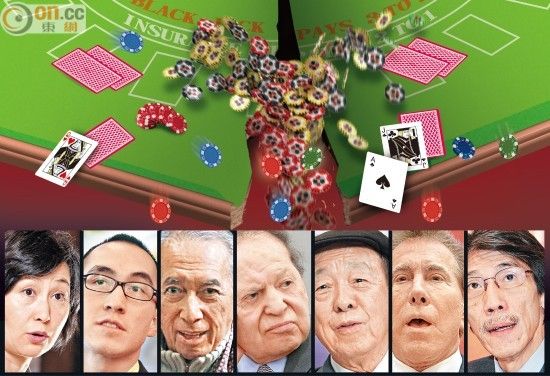 Betting guide February 10, according to Hong Kong's Oriental interactive network reported on a monthly basis in January Macau betting revenue fell significantly, triggering massive sell-off fund Ho gambling stocks, if the press last Wednesday low and recent high computing, Galaxy Chairman Lui Che Woo and family, holding market value was reduced by about 40 billion yuan, MGM China (02282), co-chairman of Pansy Ho, holding the market value was "shrink" of about 80 million, even though stock prices stabilized last Thursday and Friday, but the seven main Ho gambling stocks "Large Margin sand" market shares, the book still reduce more than $ 150 billion.
Although Ho gambling stocks is regarded as one of strong plate market, but in fact has exposed weakness, if the seven main Ho gambling stocks recent share price high compared with the closing price on Friday, the cumulative decline of 10.84 to 29 percent in fact, the market value total evaporation 2,358.52 million.
Stock price fell significantly, the largest shareholder of a public market value of Ho gambling stocks follow "shrunk" to GEG, for example, last Wednesday (February 5) intraday low of 65.1 yuan, compared with January 20 intraday opinions 84.5 yuan, down 22.95 percent significantly, calculated according to the Stock Exchange Disclosure of information to GEG and the Lui family, major shareholders who together hold 50.5% stake calculations, less than a month had significantly "shrink" of about 40 billion yuan, even more than on Friday the closing price of 71.1 yuan terms, still holding the market value 28.607 billion yuan compared with the peak of the decrease.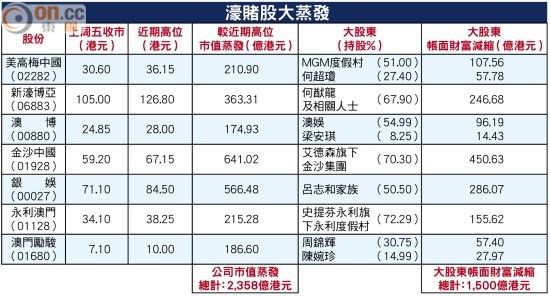 In addition to GEG, the STDM and "four too," Angela Leong, were holding 54.99% and 8.25%, SJM (00880) shares, if by SJM last October high of 28 yuan terms, market value of shares decreased by 9.619 billion yuan and 1.443 billion yuan; MGM China and the largest shareholder of MGM Resorts Pansy Ho, co-chairman, respectively, 51% and 27.4% stake, respectively, reducing the market value of 10.756 billion yuan and 5.778 billion yuan compared with January peak.
"Little epic" Lawrence Ho and stakeholders, in Melco Crown (06883) reduce the market value of 24.668 billion yuan holdings; Zhou Jinhui and "three too," Chen Wanzhen in Macao Lai Chun (7.07, -0.03, -0.42%, real-time quotes ) (01 680) of market shares, compared to the high end of the stock, respectively, 5.74 billion yuan and 2.797 billion yuan reduction.
Looking to the future trend of Ho gambling stocks, brokerage believes the attack in a number of internal and external factors, the first half of the stock is difficult to return to a high level. Industrial OSK Securities director Zheng Jiahua bluntly, Ho gambling shares in the high-growth period has passed, the industry is currently suffering from three Factors problems, in addition to Macau's gambling revenue data disappointed investors, the negative impact on anti-corruption mainland directly related shares dragged down revenue growth. He also expected Japanese short-term bill will be passed to legalize betting on the Ho gambling stocks with to a greater blow.
Japanese lawmakers at the end of a motion to legalize gambling, Zheng Jiahua estimate, the motion will be through short-term, although the first Casino The fastest four to five years after completion, but Ho gambling stocks will lose its uniqueness in the whole of Asia, but the vibe inside Japan will surpass the United States in Las Vegas ten years, awarded by the world's second largest casino, a variety of factors have a negative impact, it is difficult to support a high price-earnings ratio, the first half of the stock is not easy to back on high.
Generous financial asset management director, said Alex Wong, Ho gambling stocks are not as in the past, "the popcorn machine", now need to pay close attention to the trend of the mainland economy, he explained, Ho gambling stocks the biggest risk is that the mainland economy, the current findings, related risk is not small, Because gambling is no longer focused on the lounge business, but extends to the midfield income.
In fact, JP Morgan has issued a report sing short Ho gambling stocks that in the past six months Ho gambling stocks have outperformed the Hang Seng Index of 77%, the value has been fully reflected appeal before selling investor performance.
Credit Suisse believes that betting revenue in January worse than expected, mainly due to business lounge drag, the next few months the attitude of cautious growth lounge. The bank also considers the high betting turnover business with the mainland economic data closely, but recent data trends weak or slow down the business in the second quarter. Citigroup issued a report, lowered Wynn Macau (01128) this year and forecast earnings per share, reflecting its earnings outlook appears uncertain.