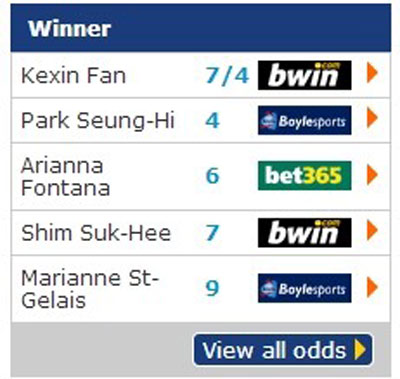 Gaming companies out of the short track speed skating women's 500-meter average odds to win
Beijing on February 13, 2014 Sochi Winter Olympics short track speed skating competition continues, today will produce women's 500 meters gold medal, teenager Fan new, Liu Qiuhong champion Li Jian soft hand in red gold. Before the game,Gaming company Based games out of the odds of winning.
There are 19 betting companies in the short track speed skating women's 500 meter race out of the odds of winning, the result was unanimously optimistic about the new Fan will win the Champions League, reached her average odds 7/4. In second place is South Korea's Park Seung Chi, her average odds of 4. Third place was Italian star side Tana, her average win odds 6. Another South Korean star, prodigy Shen Stony Brook is ranked in fourth place, her The average odds of winning seven.
There are two Chinese players will also participate in the project competition, but in the eyes of the bookmakers, their title hopes to be small. Liuqiu Hong ranked seventh, her odds of winning the best four, the worst 16. Another contestant is Li Jianrou ranked eighth, her odds of winning a minimum of 32/5, can reach up to 20.
According to the schedule, the game today will be a quarter-final, semi-finals and finals, according to the odds of view, Liuqiu Hong and Li Jianrou want to win for the new Fan escort, the first two rounds is very important, if there is one person who can enter finals, will give the new Fan of great help.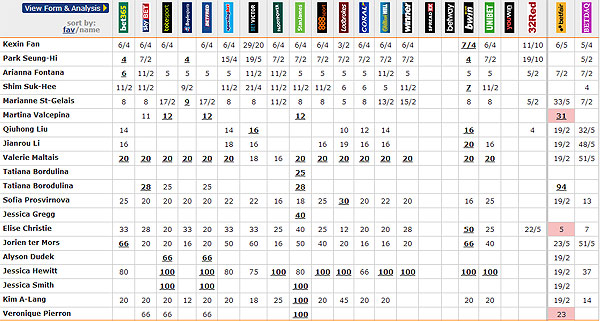 Sochi Winter Olympics short track speed skating women's 500 meters to win the odds list